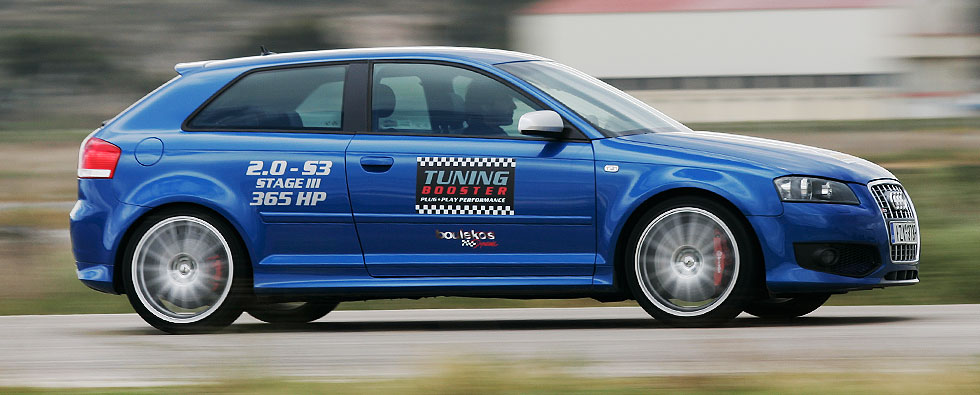 Audi S3
This car is a 2003 Audi S3, built in 2007 with a 2.0 TFSi engine and original power of 265 Hp.
Boulekos dynamic goal is to increase the engine's output focusing on driving safety, and to create an aesthetically elegant outcome by means of discrete interventions. After our tuning, the engine horsepower was increased to 471 HP at 7045 rpm and maximum torque reached 560 Nm at 5450 rpm. (dyno)
Engine
In order for the engine to cope with higher turbocharging pressures, pistons and conrods have been replaced with more robust ones and the compression ratio was decreased compared to the factory one. Factory-made turbine exhaust manifold Κ04 was replaced with a PRESCISION turbine fitted in a 253032-E stainless exhaust manifold (tubular), properly designed for a 4WD. Because of increased engine requirements in fuel, the direct-injection nozzles have been replaced with others of better fuel supply, together with an amendment in the high pressure pump.
Peripherals
The exhaust pipe, from downpipe until the last muffler, has been replaced with Supersprint exhaust system.
The air enters in the system via carbon fiber ram air filter, all turbocharging pressure pipelines have been changed with aluminum ones of larger section, equipped with Samco sport intermediate silicon joiners. For the cooling of compressed air, an extra front mount intercooler has been placed. In terms of transmission, we used a Powerclutch kit by Sachs performance.
Engine management was executed by reprogramming the factory-made ECU.
The braking system has been replaced with a Brembo BDB380 brake kit comprising of 8-piston calipers and 380 mm drilled/vented discs.
The motor mount has been changed with a reinforced VF engineering one, whereas a KW Variant3 was applied in the suspension system and the silent blocks got replaced with Powerflex reinforced ones.
Aesthetics
Aesthetically, not many interventions were made. The rims were replaced with 4 front R8 19" forged ones, as were the lights with the Hella upgrade kit.